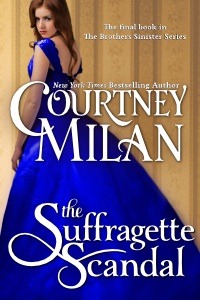 Book Description
An idealistic suffragette...

Miss Frederica "Free" Marshall has put her heart and soul into her newspaper, known for its outspoken support of women's rights. Naturally, her enemies are intent on destroying her business and silencing her for good. Free refuses to be at the end of her rope...but she needs more rope, and she needs it now.

...a jaded scoundrel...

Edward Clark's aristocratic family abandoned him to die in a war-torn land, so he survived the only way he could: by becoming a rogue and a first-class forger. When the same family that left him for dead vows to ruin Miss Marshall, he offers his help. So what if he has to lie to her? She's only a pawn to use in his revenge.

...and a scandal seven years in the making.

But the irrepressible Miss Marshall soon enchants Edward. By the time he realizes that his cynical heart is hers, it's too late. The only way to thwart her enemies is to reveal his scandalous past...and once the woman he loves realizes how much he's lied to her, he'll lose her forever.
I love all of the books in the Brothers Sinister series, but this one is my favorite. I love Free; she is so funny and doesn't take crap from anyone. I love the way her and Edward go back and forth with each other, they truly are made for one another. Free is always there to put someone in their place, I like that about her. It is funny how despite the fact that they want to protect her and stand up for her, her dad and brother both seem a little afraid to make her mad. They know she can, for the most part, take care of herself. She is very independent and I think that is what I like so much about her. Unfortunately for her, that is what her enemies hate about her. She does not let that stop her though; she is very stubborn and determined to do what she wants. I can't wait to read the next book. I love a good scandal and I love the characters in these books. The next book is supposed to be last in this series. I will truly miss all the characters in the Brothers Sinister series, they are all so fun.